Golfer's Advantage Plus 2024
00212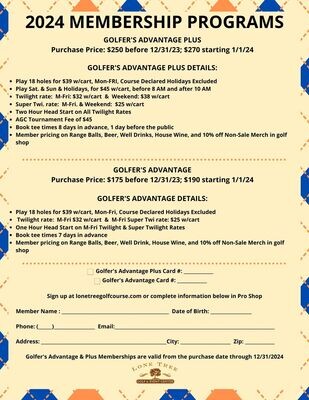 Annual Membership Programs
Available for purchase as of October 15, 2023 for the 2024 program!
GOLFER'S ADVANTAGE PLUS DETAILS

GOLFER ADVANTAGE PLUS DETAILS - $250
Play 18 holes for $39 w/cart, Mon-Fri, Course Declared Holidays Excluded
Play Sat. & Sun & Holidays, for $45 w/cart, before 8AM and after 10AM
Twilight rates: M-Fri: $32 w/cart: Weekend: $39 w/cart
Super Twi. rate: M-Fri, & Weekend: $25 w/cart
Two Hour Head Start on All Twilight Rates
AGC Tournament Fee of $45
Book tee times 8 days in advance, 1 day before the public
Member pricing on Range Balls, Beer, Well Drink, House Wine, and 10% off Non-sale Merch in golf shop
Valid from the purchase date through 12/31/24.